About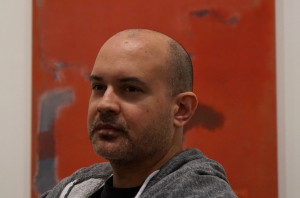 I am interested in expressing the organic in minimalist form with alternative colors.
I first became an artist in high school, and was lucky enough to be exposed to multiple disciplines, drawing, ceramics, photography and painting. By college I knew that I wanted to paint originally learning in acrylics. After graduating from law school in my mid-twenties I discovered oil paints and have never looked back.
Early Work- 1996 to 2005
What I now call my "Early Work," were created in my late twenties/early thirties and are all abstract expressionist paintings on canvas. The white faces accented with black lines are heavily influenced by Max Beckmann and Alberto Giacometti. The Prussian Blue came from my love of Chagall. Friends have nicknamed them "zombie art," and in retrospect the relation to death is very clear as in this time I was dealing with the early passing of my mother. They are lifeless figures in a repressive landscape.
Current Work- 2014 to present
The majority of my current work is oil on birch board. The larger pieces are crafted with wood pegs behind them allowing the painted surface to protrude an inch off the wall so that the images is floating with no border. The majority of these works can be turned so there is no "right" side-up. The images often take on a completely different feel as they turn allowing the viewer to customize how the painting will work in their home and current mood.
My main interest is in the interaction of color. I often explain the motivation and process behind new works on my Facebook Page.
(Jose has a BA in Art from Eureka College and a J.D. from Southern Illinois University, his studio is in the Logan Square neighborhood of Chicago, Illinois)